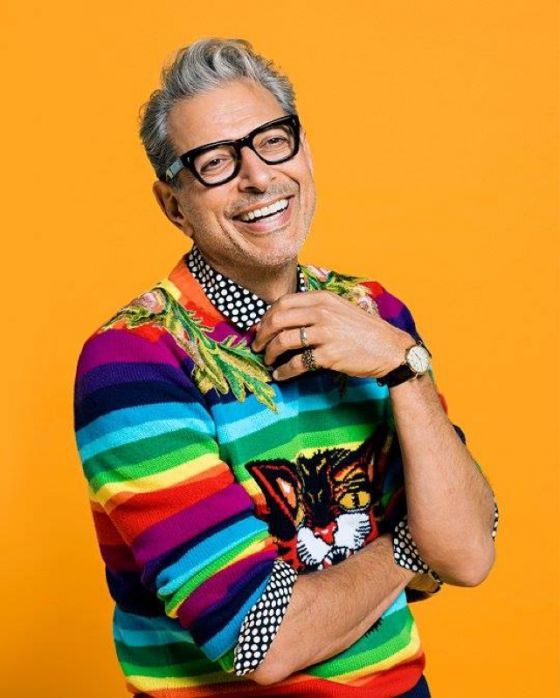 Prior to the 2010s
Jeff Goldblum
and high fashion were in essence mutually exclusive. Though he certainly wasn't poorly dressed, for the majority of his life Goldblum was often seen in attire that was the antithesis of experimental and made him appear as though he were cosplaying as the stereotypical Hollywood leading man.
This all changed in 2014 when Goldblum met stylist Andrew Vottero at a photoshoot for GQ. The two instantly clicked as Vottero opened his eyes to a world where he could simultaneously take risks while still remaining within his comfort zone. Vottero summed up his seemingly paradoxical style ethos in an interview for Garage:
"I've always been interested in the strictness of canonical male clothing and the narrow rules of dress men often subscribe to. I'm interested in using those codes as a framework, a starting point — the traditional suit/shirt/tie, jeans and leather jacket, khakis and penny loafers — and then playing with those codes, using a standard pant but one that's zebra striped, or a simple shirt that's cut out of silk"
By using an approach that focussed on building a framework around traditional men's dress codes, Vottero was able to incorporate pieces that in many senses were wardrobe staples - with a touch of extra flair slowly allowing him to broaden Goldblum's style horizon. The manifestation of this has been one of the most unique stylistic transformations of recent times, as Vottero galvanised him into fully embracing the eccentric. His press tours have since been electrified with
Saint Laurent
suits, zebra derbies and contrasting patterns that breach every style rule in the book.
But of all Goldblum's fashion affinities, perhaps the most notorious is his love for
#Prada
. Over the years he has been seen sporting a variety of the brands maximalist pieces including the impossible true love bowling shirts which feature iterations of abstract portraits designed by Christophe Chemin. For many, shirts like these would look entirely out of place; but on Goldblum, they just work.