Everything you need to know about Gore-Tex
---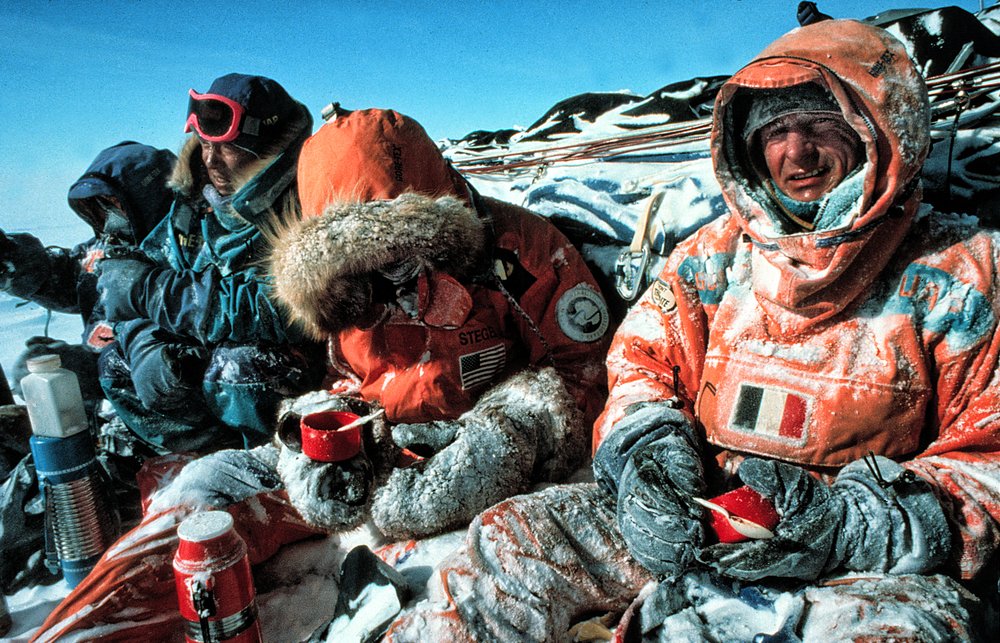 A staple that can be found any outdoor enthusiasts' wardrobe, GORE-TEX, is one of the most innovative and high-performing water-resistant materials.
Its groundbreaking durability and breathability has found useful applications beyond the realm of apparel, including in medical devices and electronics. Patented in 1980, GORE-TEX has the unique ability to be water-proof while allowing perspiration to escape. The revolutionary material has also found its place in lifestyle apparel at brands including Supreme and Stussy. But what makes it most interesting, is how the material found success without having made any original products. We've created a comprehensive profile on everything you need to know about GORE-TEX, the material that is "Guaranteed To Keep You Dry".
How a husband and wife team invented Gore-Tex.
In 1958, husband and wife W.L. and Genevieve Gore founded W.L. Gore & Associates, Inc., which initially served as an electronics company. W.L. had taken an interest in a material called Polytetrafluoroethylene (PTFE), also known as Teflon. Nearly a decade later, their son Bob began experimenting with PTFE with the intention to discover a cost-effective method to produce Teflon insulation for cables. He began stretching the material at different temperatures and speeds, and eventually created a porous polymer that was 70% air. The proprietary material, expanded PTFE (ePTFE) exhibited unique water-resistant properties and is a key material in GORE-TEX products today. By 1970, the Gore's applied for the first patent for the polymer ePTFE, hoping to revolutionize technical garments. When GORE-TEX eventually made its way to market, it superseded all the existing options, and was embraced as one of the most reliable all-weather materials.
In 1976, the first commercial order was placed for GORE-TEX by a company named Early Winters. The first consumer product that was produced with GORE-TEX laminate was a tent that changed the outdoor experience. Field & Stream, the largest outdoor sports magazine at the time, stated "Your backpacking tent would no longer need that waterproof rainfly over it...you could hike in your rain parka without soaking in your own steam" about the breakthrough material. Within weeks, Early Winters sold hundreds of tents and bought 10,000 yards of GORE-TEX fabric.
In 1981, GORE-TEX made its way to space after creating the spacesuits for NASA astronauts on NASA's first shuttle mission. GORE Fiber was woven into the outer layer of the suits because of its reliability and ability to withstand harsh temperatures.
In 1989, a six man, international team embarked on a 220-day trek across Antarctica. One of the expeditions primary sponsors was W.L. GORE and Associates who supplied the team with bespoke Trans Antarctica jackets, which were expertly designed to withstand the extreme weather in Antarctic. One explorer praised the GORE-TEX fabric for saving his life. The mission was a success and as well as bringing attention to climate change, it put GORE-TEX products on the map as a leader in their field; a title they retain today.
The structure that makes Gore-Tex waterproof

The key difference that makes ePTFE a high-performance material is its microporous structure. The 9 million pores in ePTFE which are as small as one micrometer, are 20,000 times smaller than a water droplet. That means water droplets can't penetrate through ePTFE, making it water-resistant. However, the pores in ePTFE are 700 times larger than a sweat droplet, meaning sweat can easily diffuse through the material. The result of this is a material that effectively allows perspiration to escape, but prevents water from entering – keeping the body dry all around.
On a basic level, GORE-TEX is highly effective because of the difference in water concentration between water droplets and sweat droplets. However, the GORE-TEX membrane is what allows it to deliver as an all-weather material, including being windproof, insulating, and oil-resistant. You'll often find GORE-TEX referred to as a laminate, as it is applied as a laminate between an inner and outer layer. All GORE-TEX are made with a membrane that is sandwiched between an outer layer designed to bead water, and an inner layer designed for breathability. GORE-TEX currently makes 3 waterproof membranes. The membranes are bonded differently to suit different performance needs and are available in 2, 2.5, or 3-layer construction.
2-layer construction allows for versatility as the membrane bonds only to the outer layer. Insulating materials can be added to the inner lining of these garments.
2.5-layer construction meanwhile includes a half-layer on the inside adding durability while remaining lightweight.
3-layer construction allows for durability as the membrane is bonded to the inner and outer layer. This construction is often unlined, and the more durable of the 3.
On the right diagram from NIKWAX, you can see how moisture transmits through the membrane, while not allowing liquid water in.
While there are different construction types to consider, GORE-TEX also offers different products based on performance need. Each GORE-TEX product comes with a waterproof and windproof promise, so the main factors to consider when finding the right product are weight, versatility, and design.
The continued innovation that upheld the GORE name.

The reason GORE-TEX is cemented as a pioneer in high-performance outerwear is their commitment to identifying ways to improve their product offering.
Necessary in most apparel, seams bind pieces of fabric together and result in small holes. GORE Seam Tape was created as an alternate to seams to prevent potential leaks. The company created tape and seam-sealing machinery to overcome the issue of leaking, however this tends to decrease the breathability of the garment.
To combat natural wear and tear issues, GORE-TEX started applying a durable water repellency (DWR) treatment to the outer shells of many GORE-TEX fabrics. This thin layer ensures water droplets bead on the surface and roll off, rather than saturating the outer layer, reducing breathability. DWR can be re-applied at home or products can be dried at a low setting to restore the resistance of products.
GORE-TEX in Fashion.

Leading outerwear brands including Arc'teryx, The North Face, and Patagonia have either used or continue to employ the GORE-TEX membrane in the manufacturing of their jackets, shoes, gloves, and pants to provide high-performing gear. But GORE-TEX's reputation as a timeless and dependable fabric also led to its presence in streetwear, with many designers wanting to bring their designs to a GORE garment's practicality. Today, it's not uncommon to see streetwear pieces with the GORE-TEX branding heavily exposed, which wasn't always the case.
One of the first streetwear designers to collaborate with GORE-TEX was Acronym's Errolson Hugh. Known as a leader in functional fashion, Acronym reached out to GORE-TEX in the early 2000s to get guidance on manufacturing. Hugh was told the only factory that could create what he wanted – a functional and aesthetic piece – was Czech-based Tilak. What came after was a capsule collection the two designed together, resulting in the Evolution Jacket.
GORE-TEX can now be found across the fashion and streetwear world, from OFF-WHITE runway shows to Palace's winter lineups. The reasons for the technology's popularity are myriad - it embodies the desire for the best of the best in apparel, commands an exclusive price point, and for many simply make them feel a little more prepared should there be a rainstorm on their daily commute.