In Conversation With:
Erick The Architect
---
Erick the Architect is no stranger to blending boundaries when it comes to music. As one-third of Flatbush Zombies and member of the supergroup Beast Coast, Erick has spent the last decade producing, song-writing, and rapping a number of records with unmatched creativity. Refusing to be tied to any one sound, the Flatbush-native has an authentic energy that thrives off not fitting in. Erick sits down with Original Shift to talk about how his love for London culture inspired his latest solo EP, why he'll never be a Brooklyn Nets fan, and the importance of emotional vulnerability in music.
---
New York City is a diverse melting pot that's brimming with every form of creative talent. But beyond the flashy lights, it has a hidden depth that isn't apparent until you get into the different boroughs and neighbourhoods the city has to offer. In East Flatbush, Brooklyn, a tight knit enclave where Caribbean culture is woven into the fabric of the community, it's the little embellishments unique to the neighbourhood that give it its own edge. Flatbush is where Erick the Architect, co-founder of Flatbush Zombies, calls home. It's the fact that the neighbourhood allowed him to see, breathe, and feel his Jamaican culture every day when he was growing up that he's attune to the beautiful intricacies of the community.
"New York City in general is quite mixed as far as culture or religion, but specifically Flatbush, it's very Caribbean. So, you'll have Jamaicans, Guyanese, Bajans, and Haitians, Trinidadians all in the same neighbourhood."
"In the summertime, you'd open a window, and you'd hear soca music, you'd hear reggae, kompa, and all this Caribbean influence. My family is from the Caribbean and Flatbush made that very accessible."
It's that very sense of representation, belonging, and identity that Erick and his trio, Flatbush Zombies, chose to name themselves after their neighbourhood.
"Flatbush is where we were all raised, it's where we grew up. Back then, there wasn't somebody breaking the mould for our neighbourhood."
Erick explains how the trio's expression was always intrinsically tied to Flatbush, and they became symbolic of the importance of artists maintaining a sense of connection to their home and communities.
"We helped a lot of people realise they could represent the city in a different way. I don't know another group that's named specifically after their same neighbourhood."
Erick admits that ten years ago when the group first came together, people were confused as to what their purpose was.
"We were weird and I don't think we fit in. But now we've established something and laid the foundation for somebody else to come after us."
When asked to recall some of the biggest 'we made it moments' from the group's career, he takes a pause.
"Man, there's a couple of them."
He deliberates which of the Zombies' feats crystallised their presence in the music scene, and he takes us back to 2018, when their mixtape, BetterOffDEAD, was number one. "
We performed at Coachella that year without having an album at all. That was a pretty surreal moment."
"We were weird and I don't think we fit in. But now we've established something and laid the foundation for somebody else to come after us."
It's been a long road of unstoppable creative energy since Erick's debut with Flatbush Zombies in 2010. He's a super-force of expression known for incorporating a range of musical influences, including jazz, psychedelic rock, and hip-hop into his productions. These days, he's turned his attention to developing his craft solo. For his first project, 'Future Proof', he brought his dynamic soundscapes overseas to the UK to forge creative synergies with London-based artists. Erick explains that it was south-London rapper Loyle Carner that brought him to London in the first place. "I came out to London to support my brother Loyle. I was always a fan of his music. He was somebody that I discovered on my own pretty organically." The song 'Let it Go' from his album 'Future Proof', features Loyle Carner and Farr, and it came together by coincidence, Erick explains. "The record was originally produced, and Loyle was intended to use it. But he hit me up and told me that he was going to write to it because he was inspired to actually put some words on it. So, what happened was…it was an accident. But it was a beautiful accident."

One of the most important aspects of Erick's artistry that sets him apart is his uncompromising vision. His continuous exploration serves as an embodiment of his name "The Architect". Erick sees himself as a creative builder, juggling different tasks at the same time. The name, which he borrowed from the character in his favourite movie, The Matrix, felt like a natural fit. "I always kind of imagined myself as an architect. Someone that people trust with their resources to develop this blueprint and design, and eventually build it. Music for me is the same process."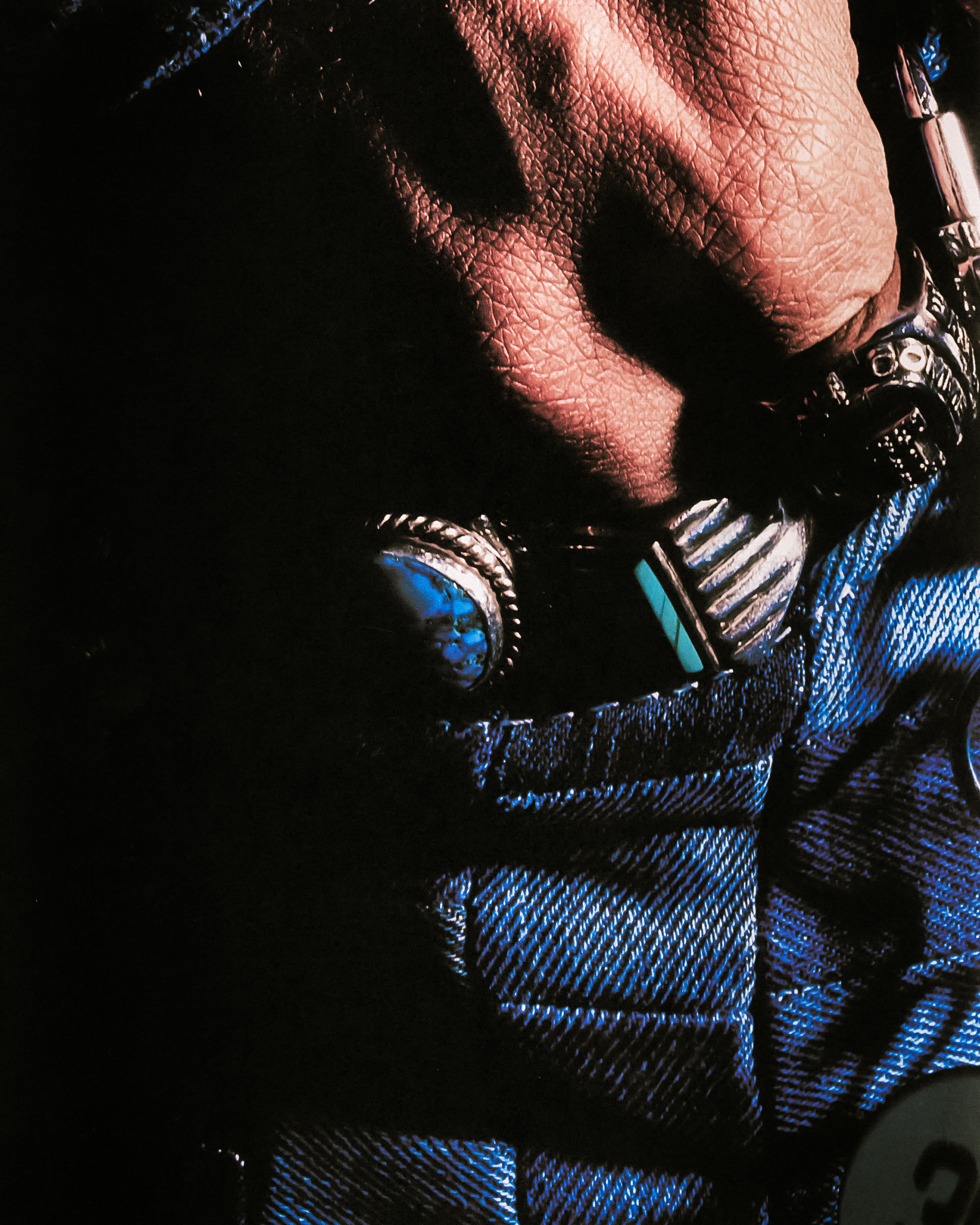 "…it was an accident. But it was a beautiful accident."
On the music making front, Erick shares that lyricism takes the lead because oftentimes the words present themselves before the beat. "I can write without any track at all. The thoughts come to me separately," he shares. Erick approaches all his projects with a strong self-awareness, and knowing when to collapse the line between producer and writer is an art he's committed to perfecting. "If I'm producing for myself, I usually want to start with a piano, that's the foundation of the music production. I often hear that producers start with the drums. I approach my stuff more musically before I add all that stuff to it. I've always kind of done that." Whether he's producing or writing, Erick leans into the energy that emerges from each project. He describes it like a flowing tap of ideas, and he tries to ensure the continuity of the process, even if a new thought comes up. "I'm pretty aware of where my attention is, and during the process I don't want to kill the energy. If I get a fresh idea, I'll try to make a voice note or something like that so that I still have it when it's time."

While staying true to his sound, Erick's latest EP borrows from the versatile sounds of London in a way that helps rejuvenate his sonic output. But his interest in collaborating with such a variety of UK artists was because British music has always been integral to his life. "I remember first listening to Amy Winehouse years before she was a crossover artist in America. A lot of people were maybe aware of her by the time she did Back to Black. But then there's also Pink Floyd, Phil Collins, Eric Clapton, Paul McCartney, and Elton John. These are artists that I was always listening to as a kid." Erick makes it clear that his affinity for the UK music scene isn't just a by-product of its trending popularity in the states, but because he feels a genuine connection to UK culture. "I had met with Skepta in Paris before he had come over in the States. I had already been listening to 'Blacklisted' and all the stuff that he was doing way before he crossed over, and I told him that. So this stuff was always cool to me. Even what's going on right now with Little Simz and Cleo Sol, it's some of the best music I've heard, ever."
"I will say, in a lot of ways London reminds me of New York." Erick describes the nexus between music and culture as central to London's magnetism, and part of what reminds him of home. "Even the language, it's very reminiscent of what I know from Jamaica and everything I grew up hanging around. London culture makes me feel grounded, I can fit in." Listing Cherry Ribena and Magnum Tonic Wine as a few of his favourite drinks that he could never find in America, Erick adds that it was easily finding parts of his identity that make the city special. "So I'm not just talking about the music, but all the other things that are represented in the culture."

Although Erick spent the majority of 2021 in London, most of his time is spent in LA. But his earlier days in Flatbush are still a quintessential part of him. "New York gets a lot of love because people know it's one of the best cities in the world, and 'cause I'm from there I'm gonna say it's the best city in the world." The metropolitanism of New York City tends to attract people from all over the world who feel drawn to the continuous hustle the city offers. But it's important for Erick to explain how different the city is now compared to when he grew up, and that's a layer of New York people just don't get anymore. "Unless you've worked on the blocks, been to the bodegas and seen the bodega cat sleeping, or uptown to Harlem you know, until you've done that… I don't know if you really know New York. Those are all New York staples." As he mentions his favourite restaurants in Harlem: Sylvia's, Amy Ruth's, and Jimbos, he adds "I don't even know if they're still open. So much has changed since COVID." The assemblage of new and old capitalist structures post-COVID only intensified the existing gentrification that hit the racialized communities in New York. "Just look at sports," Erick says. "You got the Brooklyn Nets now. Respectfully, I would never be a Nets fan. The Nets are from New Jersey. The New York Knicks are New York's team. I think the establishment of the Nets is a representation of all the people that move from somewhere else to Brooklyn, and it shows that gentrification really changed New York."
"New York gets a lot of love because people know it's one of the best cities in the world, and 'cause I'm from there I'm gonna say it's the best city in the world."

As Erick speaks so intimately about New York City, he brings up that New York native, DMX, is one of his biggest influences. "There was no one else like him in the history of music. I'd never heard anyone cry, or have that kind of emotion and also be tough." Erick cites DMX's narratives that radiate humanistic emotions as part of why he didn't just revolutionise hip-hop, but how he impacted our approach to life. "His whole life is an extended metaphor. He made it cool to be vulnerable, to be brave." Erick expresses gratitude for having grown up with family around him, but he uses DMX to remind us that we shouldn't have to succumb to the hyper-masculine personas at the forefront of rap.

It's with a sense of urgency and responsibility that Erick invites us all into a world of honest expression through his music. It's part of what draws him to create – he lets music be a tool to confront emotional truths and give words a human feel, for our collective well-being.